Biography
-Ivan Makevic-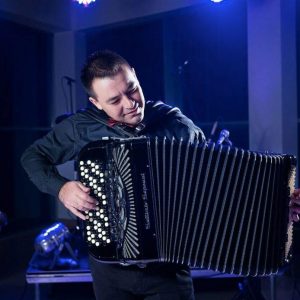 Ivan Makević was born in 1981 in Belgrade. The accordion plays since his sixth year.
He graduated at the Faculty of Music Arts in Belgrade at the Department of General Music Pedagogy in 2005.
He studied Harmonik with the famous "national pedagogue" Miodrag Mico Ivanovic.
He has won numerous awards at the accordion competitions, the most important of which are: First Accordion of Serbia, 2000 (1st place); First harmonic of Yugoslavia, 2001 (1st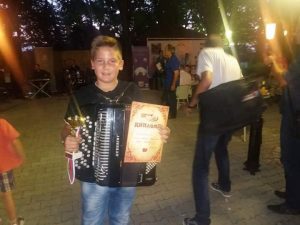 place, duet).
As an accordionist, with his orchestra, he collaborated with the most eminent vocal and instrumental soloists in Serbia, of which the most famous violinists: Dobrica Vasic, Perica Vasic, Zoran Kovacevic, Miroslav Josic. Clarinetists: Aca Antić, Boki Milošević. Vocal soloists: Miroslav Ilic, Stanisa Stosic, Milan Babic, Azemina Grbic, Vera Nesic, Ceda Markovic, Nada Topcagic, Ana Bekuta, Mira Skoric, Luba Lukić, MIlanče Radosavljević, Mirjana Aleksić, Marko Bulat, Darko Lazić and many others older and younger artists.
The school of accordion was opened in 1996 and through it passed the students of different ages. From five-year-olds, children from elementary school, then those who started in the twenties, enthusiasts in the forties, and certainly the greatest success was achieved by Dragoslav Stojadinović, who started the association with accordion in his 70th year and quickly learned to play.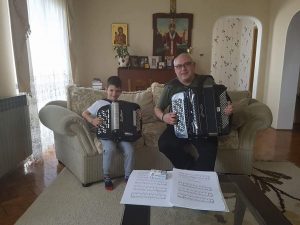 Students of the Accordion School by Ivan Makević participated in significant competitions and won numerous awards: First accordion of Vojvodina (younger juniors and juniors); Svetosavski sabor harmonikaša in Niš (1st place, duet accordion); First harmonic of Serbia in Arandjelovac (1st place, younger juniors and duo, pupils Milenko and Branislav Martic). There are many musicians in the accordion hall, of which seven have very successful orchestras.
In 2015, the school is developing with the tendency of territorial expansion (Belgrade, Novi Sad). Also, due to great interest, we organize a special block program for students from Diaspora.